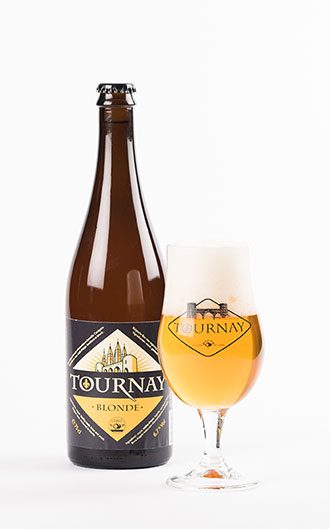 Tournay Blonde
Balance! That's what we were looking for and that's what we've achieved with a round but light beer with a perfect degree of bitterness.
Savour it as an aperitif with friends and tell them how it was born…
Following the relaunch of the brewery in 2003, we have visited many breweries and discussed things with many seasoned or debutant brewers. Memorable visits during which the tendencies for our first beer were chosen: we wanted to produce a blonde beer, with too not strong an alcohol percent, with personality but above all remaining well balanced.
To prevent it from being overly hopped, we had chosen four American hops, coherent between themselves, and subtly dosed. And to give our beer body, we opted for a malt charge of 100% barley malt, without any other cereal, nor any added sugar.
At the end of several months of research, we were finally ready to create a brew in our newly installed brewing room. It took place on 01 May 2004, and Tournay Blonde was born!